Dercusan Vario Protect is a skin protection gel with a dualistic principle of action. Thanks to the PVP film former, the skin protection gel acts against oily and aqueous substances. Due to the optimal absorption behavior of Dercusan Vario Protect, the skin protection gel can also be used under protective gloves. The product is unscented and contains no mineral oil¹ or silicone². It is also free from emulsifiers. The skin protection gel was dermatologically tested by Dermatest (see skin compatibility report) and classified as "very good" in terms of skin compatibility.
¹ We generally prefer vegetable oils as skin care substances and we have ourselves where possible, opted for more natural components.
² Surface treatment / paintwork can be disturbed by silicone and therefore silicone is usually not used as a component, especially in the metal sector.
Aqua, Stearic Acid, Propylene Glycol, Cetyl Alcohol, Polyvinylpyrrolidone, Cocamine Oxide, Glyceryl Stearate, Glycerin, Phenoxyethanol, Ethylhexylglycerin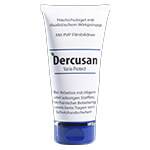 100ml tube
Articlel No. 11001
Packaging Unit: 25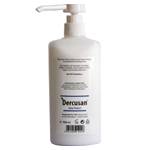 500ml pumpbottle
Artcle No. 1900
Packaging Unit: 6
1000ml softbottle
Article No. 1200
Packaging Unit: 6
Article No. 1201

We would be happy to send you our proof of effectiveness by email.